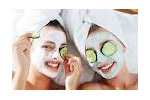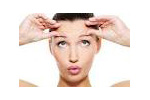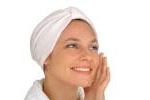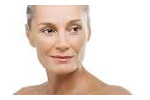 Facial services Ulladulla
Anti Ageing
Dry, Dehydrated and Hormonal Skin Conditions
They say " The best wrinkle is the one you never get" and I agree … good advice, good skin care and fabulously effective facials.  That's my promise to you.  Come and see why we are the best massage and beauty salon on the south coast.  Hope to see you soon.
Why does my skin look tired and dull?
In a young skin, the outer layer replaces itself every 28-30 days, giving it a fresh, healthy appearance. But as the skin ages, along with other bodily functions, the process of desquamation (dead cells lifting from the skin) slows down dramatically, resulting in the skin beginning to look dull, tired and worn.
Why do I have Dry Skin?
Dry skin occurs when insufficient sebum or oil is secreted. Skin texture is rough and may be flaky with a dull appearance. Dry skin is more prone to wrinkles with age and lacks elasticity.
Causes of Skin Dryness
Climate, such as high heat, low humidity, or intense cold
Chronic dehydration
Harsh agents such as soaps, alcohol based preparations, glycolic acid and mechanical exfoliants
Sunburn
Hormonal imbalances such as pregnancy, menopause and thyroid conditions
Diabetes, eczema and psoriasis are conditions associated with skin dryness
Essential Fatty Acid Deficiency
The 40s and its implications
Collagen and elastin degenerate faster than they are made.
Skin is more susceptible to photo damage (UV rays)
Skin becomes drier and reduced oil flow contributes to a drier skin
The 50s and its implications
Rapid acceleration in the speed in which the skin loses elasticity
Lower oestrogen levels mean that wrinkles and folds may become more pronounced around this time
Skin care should include actives with proven rejuvenative benefits to assist in managing these changes.
The focus should be on moisturisation, skin plumping, regeneration of the epidermis and dermis, improving the appearance of wrinkles.
Skin defence mechanisms for stress weaken, so support of cell response to stress is needed.
Moisturisers are typically required and should be extra-nourishing with long-term moisturising benefits, able to fight dryness and reduce the appearance of surface lines and wrinkles.
The 60s and its implications
After menopause, once oestrogen production has ceased, the thinning of the epidermis leads to dull skin.
Wrinkles and expression lines have become etched on the surface.
Moisturisation and barrier repair strengthening are the main priorities for this increasingly fragile skin.
Patchy pigmentation and age spots are often very noticeable and need to be specifically treated.
The Super Rejuvenation Facial
This facial is amazing – your skin will be 'ultra' smooth and 'ultra' hydrated with the Dermasound Plus. Peel away the years gently, then deeply infuse vitamins and hydrating gels. Especially good for acne scaring, sun damage and devitalised skin.
DermaSound Plus™
is top of its class in transporting anti-oxidants, micronutrients and hydrating agents into the cellular level of your skin. This microcurrent therapy can be used in your facial treatment to exfoliate, deliver and normalise.
is a cutting-edge skincare system that uses low frequency sound waves to perform aesthetic services in a revolutionary new way. Derma-Sound Plus™ provides superior exfoliation and intensifies the peeling action of chemical solutions for better results than you have ever experienced.
uses water, driven by low frequency sound waves to rapidly spin molecules, producing an effect called cavitation. This process whirls away dead surface skin cells and debris safely and gently, with no inflammation.
is a whole new technology for providing more effective, deeper-reaching topical antioxidant treatment and cellular nourishment. Through a process called sonophoresis, DermaSound Plus™ creates transdermal pathways through which antioxidant compounds and other cell renewing substances can flow.
can help balance and restore normal cell function to traumatized skin through Microamp Therapy.
Super Rejuvenation Facial $165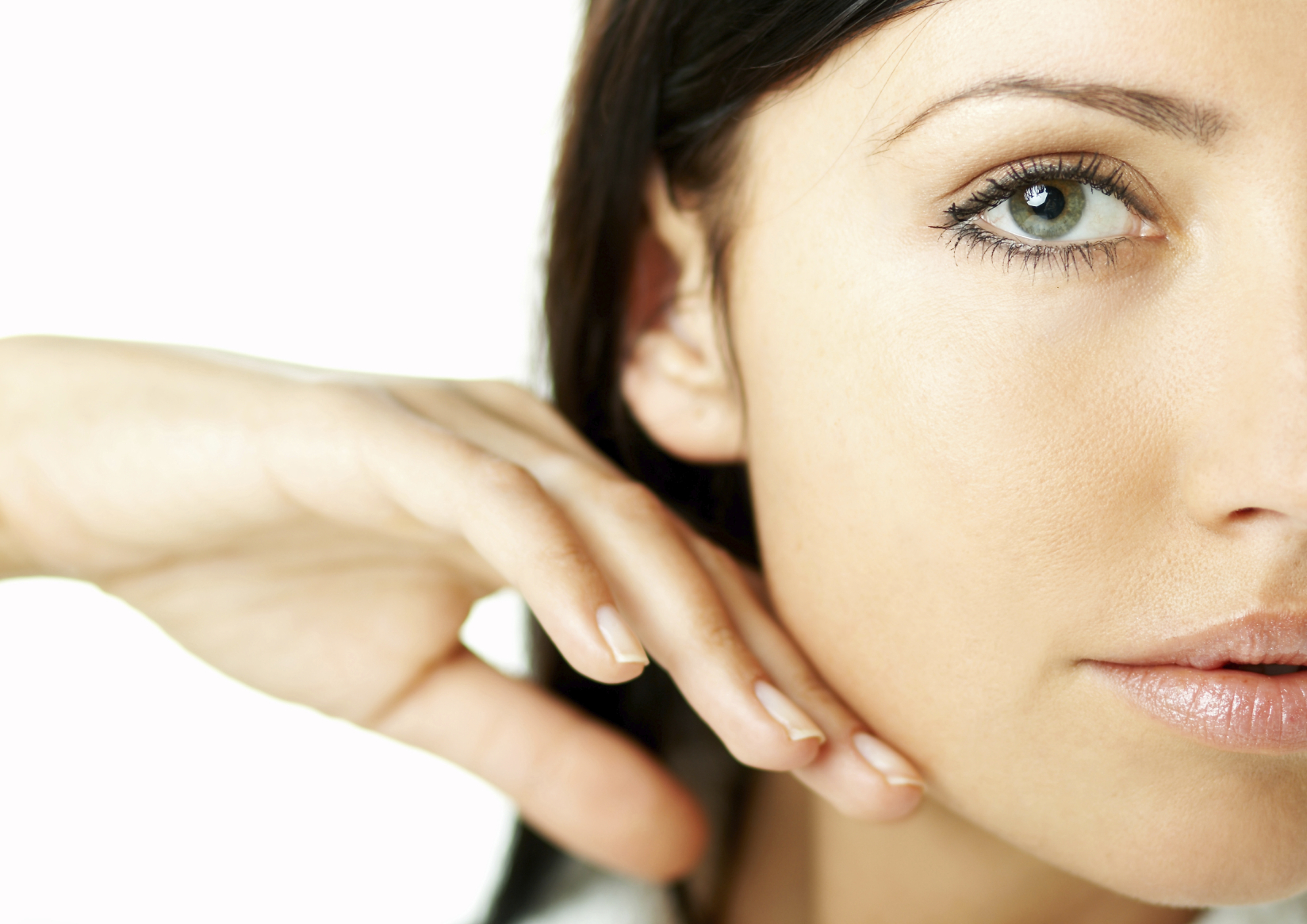 Youth Elixir Oxygen Facial
Take A Breather With Pure Oxygen
With an instant fresh rejuvenated sin, this treatment is a favourite of leading salons and spas around the world, and their celebrity clients!
Often the skin is starved of the essential oxygen, vitamins and minerals they need to be healthy, are continually under attack from harsh environmental pollutants and free radicals and get stessed out by our hectic lifestyles. Our Youth Elixir Oxygen Facial soothes away internal stress, regenerates and boosts the health of every skin cell with 180 million essential nutrient particles per second to give an increase in the production and strength of the facial collagen.
What kind of effects will I notice after my Oxygen Therapy Facial?
Fine lines disappear instantly and your skin will feel fresh and hydrated with a renewed firmness and radiant youthful glow.
Over the next 24-48 hours your skin will look even better as the oxygen and nutrients infusion reaches the deeper layers of the skin, restoring healthy cell metabolism and beginning the process of collagen regeneration.
This Facial should be called our 'Wedding Day' Facial as it is an absolute favourite for our brides the day before they get married!
Youth Elixir Oxygen Facial $150
High Performance Facial
A deeply hydrating antioxidant facial treatment for all skin types in need of hydrating, lifting and toning. The Hypermoist Facial includes our Customised Infusion Mask which is designed by your therapist for your skin's specific needs. This mask is an advanced transdermal delivery vehicle specifically engineered to rapidly transport active's into your skin.
Our Hypermoist Facial also includes CEYA – Cap Energy Youth Activator which is a remarkable toning and firming therapy that is scientifically proven to achieve immediate and lasting results. (See Express Treatments Action Lunch Time Face Lift) Wrinkles diminish and the skin becomes instantly firm, tighter and more youthful.
Just the above will give you great looking skin but at Face & Body Therapies we believe in giving you the absolute best in Anti-Ageing Treatments so we have also added Max 7 Light Therapy to really give you a 'HIgh Performance Facial'
Discover What The Hollywood Stars are Getting Done! This State of the Art concept in non-invasive cosmetic therapy lifts, tones and treats conditions such as: Fine lines, enlarged Pores, Acne, Dehydrated and Aged Skin. Phototherapy works by setting off a frenzy of cellular activity to produce softer,more youthful looking skin.
High Performance Facial $140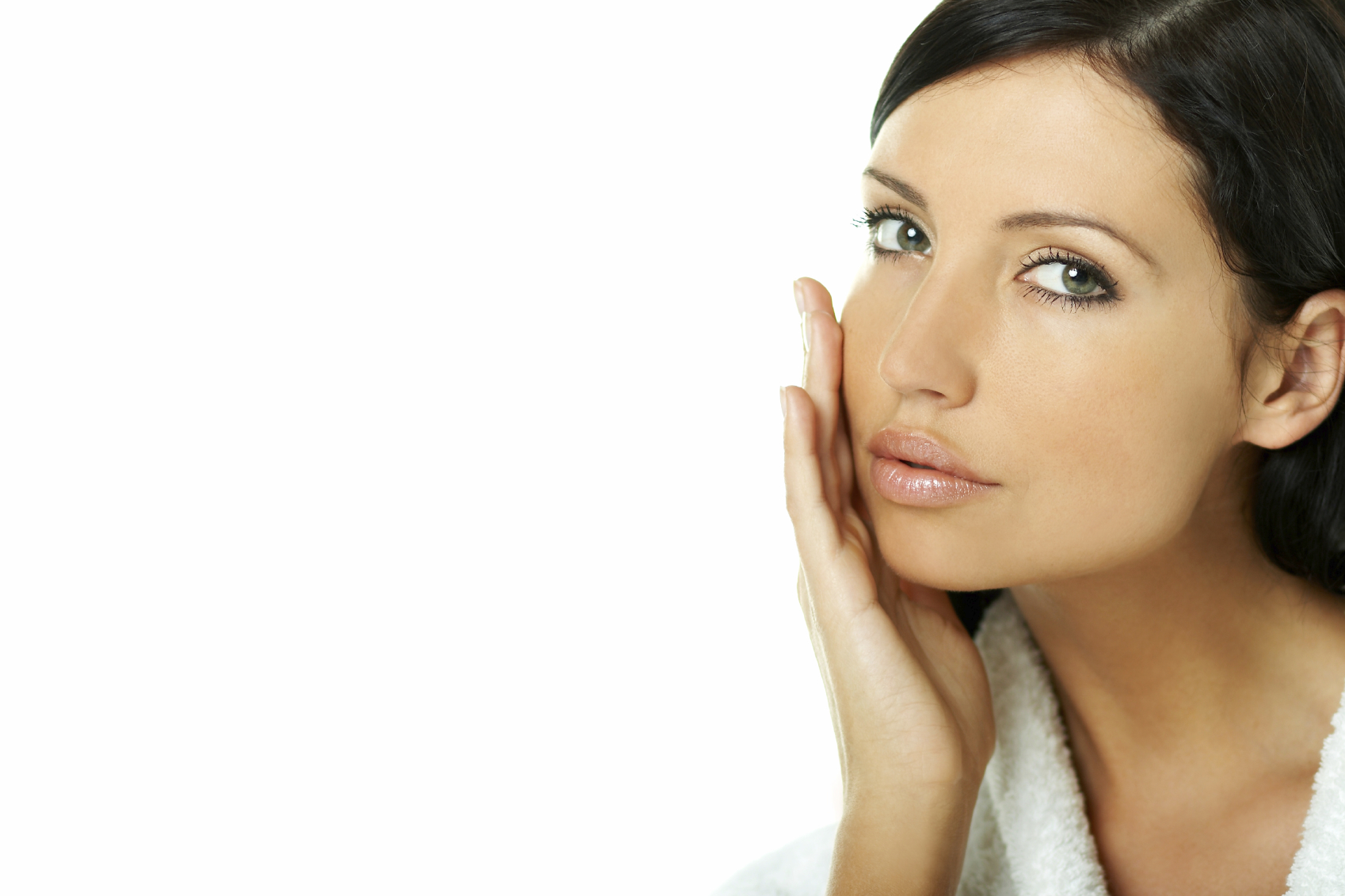 Peptide & Antioxidant Youth Facial
This facial includes two of our most popular treatments Microdermabrasion and Max 7 Light Therapy plus our TNS Hydrating Masque. This facial is fabulous for a dry or dehydrated skin in need of vital boosting! The hydrating facial masque with the growth factor blend TNS is a patented anti-aging treatment, moisturising, nourishing and re-energises dry, aging and sun damaged skin.
Peptide Youth Facial $130
Action Lunch Time Face Lift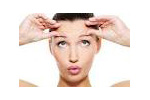 CEYA – Cap Energy Youth Activator – How does it work?
CEYA® is a remarkable toning and firming therapy that is scientifically proven to achieve immediate and lasting results. Explained simply, the process uses radio waves to penetrate the body with 'cold energy'. To balance itself, your body naturally heats the area by increasing blood flow to the region. Simultaneously supplying nutrients and oxygen while carrying away toxins and waste. This has the effect of sculpting and toning beautiful muscle while assisting with fine lines and wrinkles.
CEYA produces a radio frequency current that flows through the tissues increasing circulatory flow producing a heating effect to the skin, muscles, fatty and bone tissues. This allows a quicker interchange of nutrients between the cells. Within a few seconds toxins are removed from the area and the skin receives enough oxygen to function at optimal levels. Wrinkles diminish and the skin becomes instantly firm, tighter and more youthful.
Keep looking younger and more attractive
Considering that we feel more beautiful when we are healthy, happy or feeling good, is it not better then to utilise one common element in the human body that gives one's beauty back to our tissues? So what is that element that keeps our tissues young, firm and attractive? The answer to all these questions is the Blood.
The CEYA (Cap Energy Youth Activator) unit produces a radio-frequency current that flows through our tissues and plays an important role at an internal level by bringing the blood from the outside to the inside of the tissues. This phenomenon is known as diathermy or hyperthermia. On the outside, we only see it because the skin gets a bit reddish and because we feel an enjoyable sense of warmth.
A revolution however takes place inside. Under the epidermal layer, an alluvium of blood from the veins, capillaries and arteries flood the treatment area and drag away those waste materials and toxins that block the oxygen from entering into the cell membrane. Within a few seconds, the toxins are completely removed from the area and the intercellular drainage frees the cells affected by the lack of oxygen.
Non-Surgical Facelifting
The most spectacular and most recommended treatment for women in their 40's or 50's, is the Non-Surgical Face lifting. Within a 10 minute-treatment, we can notice how the skin has decongested, the eyebrows have raised, the eyes look a lot open, the double chin has firmed and the cheeks have moved higher.
What about Eye Bags and Eye Rings?
Dark Eye Rings can be a proof of physical and intellectual tiredness. They are extremely unsightly and produce a tired or unhappy appearance. Only a few people do not suffer from dark eye rings. The CEYA eliminates them efficiently, and at the same time, makes the skin appear fresher and brighter.
Lunch Time Face Lift $95
Have a Date with 'Max'
Discover What The Hollywood Stars Are Getting Done!
This 'State of the Art' concept in non-invasive cosmetic therapy lifts and tones the face and neck muscles and treats conditions such as: Fine lines, Enlarged pores, Acne, Dehydrated and Aged Skin. This totally painless, non-invasive treatment will leave your skin looking radiant and firm after the first treatment.
How Does It Work?
Max 7 LED Phototherapy works by setting off a frenzy of cellular activity to produce softer, more youthful looking skin.
When different elements are thrown out of balance through unhealthy living habits, ageing or outside forces, we often notice a dull complexion, blotchy tired skin, fine lines, wrinkles and photo-ageing. All these are direct results of unbalanced cells. The Max 7 device uses the seven colours from the visible light spectrum to promote balance and healing.
Once You Have Met Max – It's Written All Over Your Face
What Will It Do For Me?
LED is curently used in the medical market to treat all skin types with a single device. You can expect results such as:
Cellular rejuvenation, collagen production
Muscle toning, anti-ageing
Anti-inflammatory, capillaries and rosacea
Calming and Soothing
Reduces swelling, calms irritations
A Date With 'Max' Treatment $85
Healthy Glow Express Facial

Not short on results this facial will leave your skin feeling absolutely smooth and refreshed. Let us remove those dry, dull skin cells to reveal a healthier looking skin. A masque of antioxidants, vitamins and minerals will hydrate and feed your skin with nourishment. Includes a shoulder, neck, face and scalp massage to totally relax you while you are enjoying your time with us. You will walk out floating on air. We look forward to seeing you!
Healthy Glow Facial $85
Hyperpigmentation & Sun Damage
A True Anti-Ageing Solution
'10 Years Younger in 10 Days'
Sun exposure causes most of the skin changes that we think of as a normal part of aging. Over time, the sun's ultraviolet (UV) light damages the fibers in the skin called elastin. When these fibers break down, the skin begins to sag, stretch, and lose its ability to go back into place after stretching. The skin also bruises and tears more easily taking longer to heal. So while sun damage to the skin may not be apparent when you're young, it will definitely show later in life.
At Face & Body Therapies we offer the latest breakthrough in Skin Rejuvenation Therapy the Energist Ultra VPL is an exciting, non-invasive treatment for benign skin conditions such as pigmentation, sun damage, facial redness, broken capillaries, acne scarring, enlarged pores and fine lines. Please click through and Download fact sheet to find out how this treatment can give you fabulous results.
Please book in for a consultation and thorough explanation of VPL Skin Rejuvenation Therapy
with one of our highly trained therapists.
Skin Renewal Peel
Our Lactobotanical Peel is an excellent skin renewal and collagen building treatment. It is effective in the management of acne and hyperpigmentation as well as a potent skin hydrator.
This skin renewing treatment is suitable for most skin types and especially for the following conditions:
Dull, lifeless skin in need of exfoliation
Epidermal hyperpigmentation
Congested skin
Dehydrated skin
Mild to moderate acne and adult acne.
All signs of photo-ageing
Ingrown Hairs
Skin Renewal Peel $95
Oily, Congested & Acne Prone Skin
Did you know that 85% of adolescents will experience acne, it affects 8% of 25-34 year olds, and 3% of 35-44 year olds. Further the majority of sufferers will have a family history of acne.
Blocked pores, dull skin, uneven skin, blackheads and whiteheads…all signs of congested skin and often affecting not just teenagers, but adults too. Also known as open comedomes, blackheads are literally tiny plugs in the opening of a follicle or pore on the skin. The pore plug is a combination of oils, sebum and dead skin cells. Open to the skin's surface, the plug becomes darkened as it is exposed to oxygen. Whiteheads are closed at the skin's surface, blocked by cellular debris but not exposed to oxygen so remain light in colour.
Blackheads, whiteheads and blocked pores are usually caused by a combination of factors. Excess skin oil, sebum and toxins that are expelled through the skin are often an underlying issue. In addition dead skin cells, pollution, occlusive make up and dirt also play a role by filling up pores already opened by sebum and oil production. Each factor will contribute to congestion in a different but significant way:
Skin Oil & Sebum: excess oil and sebum production by the skin will contribute to clogging pores and encourage the growth of skin bacteria. When combined with external factors such as dirt, blackheads easily form.
Toxic Congestion: blood and lymph supply the skin with nutrition. However, if the toxins that are produced in our bodies everyday are not eliminated properly, they are eliminated via the skin and can contribute to congestion as well as other issues such as acne and skin irritation.
Dead Skin Cells: Each 3 or 4 weeks the skin replenishes the skin cells. This natural process creates a layer of dead skin cells over the surface of the skin. If not removed, the dead skin cells create dull looking skin. The other thing that may happen is that the dead cells will plug the pores on your face and create congestion and blackheads. When combined with excessive sebum production, this can lead to the formation of white-heads and black heads.
Skin Care & Make Up: The key culprits in skin congestion are products that contain petrochemical based oils as they have an occulusive effect, stopping the skin from breathing and blocking pores. Talc, which is common in make up and finishing powder, also has this effect. Waxes and butters may also be an issue with skin prone to congestion. Make up is usually worn on a daily basis so it is essential to choose a make up that suits your skin type and doesn't contribute to further congestion.
Pollution & Dirt: Building up on the surface of skin over the day, pollution is a factor in the formation of blackheads and blocked pores. The more polluted the area in which you live, the more skin pollution you are likely to experience. Effective skin cleansing is vital to clean the skin of daily dirt and grime…and a splash of water at the end of the day just doesn't cut it. Dirt that is found on our face and other parts of the body can be a breeding ground for bacteria and combined with oily skin can make things even worse. Where does the dirt come from? Dirty hands are a key culprit and those already conscious of their skin tend to pick and rub their skin more than others, just making the problem worse.
Treatment of Blackheads
So, how to get rid of blackheads and congested skin? Well squeezing them out is not the answer. This technique will just lead to further skin irritation and possibly damage and scarring to the surrounding tissue. Rather than removing blackheads by squeezing, the best way to get rid of them is by attacking the source of the problem.
A good cleansing routine: Cleansing the skin of daily dirt, grime and pollution is essential. A good cleansing routine is a very effective way to remove blackheads, as it will help wash away excess oil and dead skin particles.
Regular gentle exfoliation: One way to minimise congestion and clogged pores is to ensure the top layer skin remains clear by regularly removing the dead skin cells.
Fruit Enzyme Peels: Enzyme peels are another way of clearing dead skin cells. They work as a result of their ability to break the bonds between dead skin cells that form at the surface of the skin. Skin normally has a dead layer of cells at its surface (the corneocyte layer), and fruit enzymes can speed up the normal process of skin cell regeneration and sloughing. This results in increased flexibility of the skin as well as decreased formation of large dry skin flakes at the surface of the skin. Pumpkin, pineapple and pawpaw provide natural, gentle enzyme proteases that loosen the glue between dead skin cells, slough away impurities, dead skin cells and unplug the pores while delivering nutrition to the skin. This leaves the skin cleansed and silky smooth and reduces the likelihood of blackheads. Fruit enzyme 'peels' only need to be used once or twice a week for good effect.
Light Moisturisers: Moisturisers that use waxes, butters and petrochemical oils will be more likely to contribute to congestion in skin that is prone to blackheads. Please note that waxes and butters are perfectly suitable and definitely beneficial for those with dry or dehydrated skin but for those with congested skin, choose lotions rather than rich creams. If you have combination skin and suffer from congestion as well as dry skin, use oil based serums or hyaluronic acid to increase moisture content in the skin without contributing to further blockage.
Make Up: Mineral make is an ideal alternative for those with congested skin. Rather than sinking into or filling pores, the particles of pigment sit on the surface of the skin allowing the skin to breathe properly. This helps minimise congestion and eventually, allows the pores to shrink.
Following the steps above will not only help you minimise congestion but will also encourage clear, vibrant skin in general.
HELP FOR CLOGGED & CONGESTED SKIN
Purifying Medi-Detox Treatment
A deeply cleansing detoxifying facial treatment for impure, clogged and congested skin types.
Includes Microdermabrasion which is a progressive, non-invasive and quick treatment that gently & thoroughly removes dead skin cells. The process is comfortable and very effective in removing dead, dull skin and deeply cleans the skin therefore reducing the levels of breakouts and blackheads.
Incudes Max 7 LED Light Therapy – using the latest in technology Max 7 uses safe and effective light to destroy bacteria, create a cellular balance, reduce redness and inflammation and encourage healing in the skin. Perfect to reduce the effects of scarring.
Our Customised Infusion Mask is clinically proven to control sebum and diminish the appearance of blemishes. The Custom Mask is tailored to your skin's individual needs by your therapist.
Medi-Detox Treatment $150
Microdermabrasion Facial
What is microdermabrasion?
Microdermabrasion is the system of pushing specially refined crystals at high velocity onto the surface of the skin to exfoliate dead skin cells and promote the generation of new skin cells, thereby creating a skin surface which is youthful and glowing. The vacuum suction nozzle performing a dual role: to suction the skin and promote lymphatic drainage and to remove excess crystals and abraded skin cells.
This procedure can be used to treat a number of skin conditions and complaints, and results can be seen following just one treatment. As further treatments are undertaken, results become even clearer to see and feel.
What skin conditions and complaints can microdermabrasion treat?
Microdermabrasion provides excellent results for the following conditions:
Fine lines
Wrinkles
Sun-damaged skin
Acne and acne scars
Scar reduction
Excess oil production
Blackheads and whiteheads
Enlarged and open pores
Superficial age spots
Dull, stressed and congested skin
Skin pigmentation
Stretch marks
Your treatment is followed by our custom infusion masque selected by your therapist according to your skin's needs and condition.
Microdermabrasion Facial $115
Skin Renewal Peel
Our Lactobotanical Peel is an excellent skin renewal and collagen building treatment. It is effective in the management of acne and hyperpigmentation as well as a potent skin hydrator.
This skin renewing treatment is suitable for most skin types and especially for the following conditions:
Dull, lifeless skin in need of exfoliation
Epidermal hyperpigmentation
Congested skin
Dehydrated skin
Mild to moderate acne and adult acne.
All signs of photo-ageing
Ingrown Hairs
Skin Renewal Peel $95
Express Skin Cleansing Facial
Our potent antioxidant rich Fruit Enzyme Treatment eliminates dead skin build-up and restores the skins natural smoothness and moisture. A dull lifeless complexion and blocked pores will become a thing of the past as we use the natural ingredients of Coffee Berry, Acai Berry, Aloe Vera and Kakadu Plum to calm and revitalise your complexion.
Skin Cleansing Facial $95
VPL Skin Rejuvenation
The Energist Ultra VPL improves both active acne and acne scarring by destroying the bacteria that causes the infection. Acne is healed significantly following a course of treatments and skin texture and tone is improved as the Energist Ultra initiates further collagen production.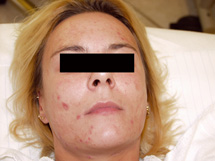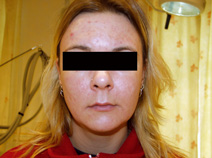 The before and after pictures show a marked improvement in the active acne after just one treatment.
The Energist Ultra VPL improves both active acne and acne scarring by destroying the bacteria that causes the infection. Acne is healed significantly following a course of treatments and skin texture and tone is improved as the Energist Ultra initiates further collagen production.
Face & Body Therapies offers EXCLUSIVE VPL package deals, offering you the opportunity to TAKE CONTROL of your skin's condition and say bye- bye to bad skin. Just ask our friendly therapists for your best treatment options.
VPL Skin Rejuvenation Acne Treatment $160
Rosacea, Reactive & Sensitive Skin
Little is known about the cause of Rosacea, but we do know
Rosacea predominantly affects fair-skinned people of Celtic origin, as well as of northern & eastern European descent – 'Celtic curse'
Develops in adult age – typically in the 30s – 60s
Women are affected 2-3 times more than men
Men are affected more severely and progress to advanced stages more often than women
The erythema of rosacea is apparently aggravated by chronic sun exposure and photo damage. Exposing facial skin to sources of radiant heat reproduces the erythema.
While there is still no known cure we do know managing symptoms is key. Try and avoid these things which cause flare ups,
Hot, spicy food
Wind
Alcohol
Smoking
Hot drinks
Hot showers
Perimenopausal link
Benzoyl Peroxide
Sun exposure (called a photo-aggravated disorder)
Detergents, fragranced soaps and cleansers
Chemical sunscreens
Once You Have Met Max'
It's Written All Over Your Face
Max 7 LED Phototherapy is the new, non-invasive light therapy taking the beauty world by storm. Light Therapy has been used in Europe for over 30 years and has been the subject of over 2,500 scientific papers published worldwide.
This technology was originally developed by NASA to improve wound healing and tissue growth in space. It assisted with tired and fatigued astronauts upon their return. The potential of this technology was uncovered and introduced into the medical and beauty markets.
There are no reported side effects to the treatments, which are painless, non-toxic and compliments many other treatments, such as chemical peels, microdermabrasion, IPL, Laser, injectables, pre and post cosmetic surgery.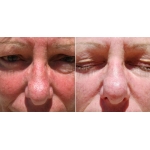 Does it seem like nothing seems to work?
Max has a calming and soothing effect on the skin as well as reducing swelling and irritations. We have found Max to be a hugely effective treatment for a rosacea, sensitive and reactive skin when it seems like just nothing works and your skin stays red and hot.
A 'Date with Max $85