Pamper Packages
Pamper yourself, a friend, your partner or anyone that needs time away to relax and rejuvenate

Beautiful Bliss – 2 hours $190
Enjoy pure pleasure and 'bliss out' with two hours of divine treatments, only the finest organic products are used to ensure you receive the absolute best … Because you're worth it!
Two hours of spoiling with a sensory journey aromatherapy or wellness magnesium full body massage to completely unwind and relax plus a luscious Manuka Honey Facial to restore your skin's hydration to give that special glow.  Includes our LED light therapy treatment to promote balance and healing.
Pamper Me – 90 minutes $170
Relax into your beautiful quiet space while you enjoy complete peacefulness and relaxation.
Enjoy an aromatherapy or wellness magnesium massage and gorgeously hydrating Manuka Honey Facial complete with hot towels, plus face and head massage.  Our rooms are quiet and comfortable, the world will seem a million miles away – you will feel truly pampered.

Spoil Me – 60 minutes $120
The Spoil Me package is for those who would like to enjoy an hour of blissful pampering.  A favourite either for yourself or as a gift.
Included in your 'spoiling' will be an organic facial which will cleanse and exfoliate away dry skin to reveal the glow you have been wanting.  While your skin is soaking up hydrating vitamins and nutrients in your mask you will receive a relaxing arm, shoulder, neck and face massage.
Receive the latest technology  LED light therapy which lifts and tones the face and neck muscles and treats all skin conditions leaving a radiant glow and firmness of the skin.  After all this an eye cream, revitalising serum and a moisturiser to suit your skin type.
The Spoil Me package is great for those who would like to spend some time with a friend.  You will both enjoy over an hour of blissful pampering.  Best of all – you both feel and look great together.

Relax Me – 50 minutes $95
Can't decide between a Massage and a Facial?
'Relax Me' gives you both
Guaranteed to please. Our massages are focused on well-being and total relaxation, with a private room, dimly lit and soft music to simply drift away.
Firstly our Coconut Bliss Relaxation Massage will focus on the back, shoulder, neck and scalp to provide deep rest and rejuvenation. Then a delightful organic skin freshening mini facial will follow to complete a beautiful experience with us at the salon.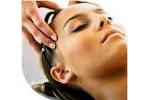 Melting Massage Package – 75 minutes $130
Total Wellness & Rest
For those just wanting to escape for a while
Our Melting Massage Packages includes a wellness magnesium foot soak to nourish cells and relieve stress.  Followed by a totally relaxing aromatherapy hot towel application before a receiving a one hour melting massage.  Plus this package includes our speciality scalp and facial massage.